Commercial Propane Gas Gas Refills for Loudoun County and Beyond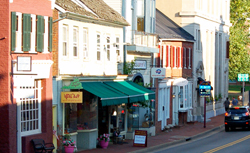 Hunt Country Propane proudly offers commercial propane services. From Home Owners Associations to small and large businesses in Loudoun, Fauquier, Clarke and Prince William Counties, we're the propane gas suppliers with transparent, honest pricing and quality service.
When your business chooses the services of a large propane corporation, you may find yourself paying different prices than the businesses right down the street. Although it may not be common knowledge, there is no flat rate or regulation on propane prices. This means you can be charged inconsistent rates.
At Hunt Country Propane, we don't take advantage of our neighbors.
You should be able to choose which brand of propane goes into your businesses' or commercial property's tank based on who has the best price, but if your tank is owned by a large corporation, you can't.
Hunt Country Propane is taking a stand for our neighbors in Loudoun, Fauquier, Clarke and Prince William Counties by offering commercial propane at honest, upfront prices.
Some of the commercial propane services Hunt Country Propane provides are:
Please contact us to inquire about services.
---